Throughout the years, Abu Dhabi, the capital of the UAE, has favorable economic conditions, political stability and state-of-the-art urban planning. Under proper guidance and wise leadership, the emirate, which now represents a vital gate to the Middle East, is rapidly transforming itself into one of the region's prominent and most sought after places to live in.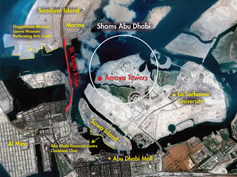 Located northeast of the capital city, Reem Island is a landmark development in the UAE shared between three master developments: Tamouh Investments, Al Reem Investments and Sorouh Real Estate, and aimed at providing quality living in a modern urban environment. The island, set to be the pearl of the Emirates, will be well include schools, hospitals, shopping malls, hotels & resorts, theatres, golf courses, marinas, sandy beach strips, canals and recreational parks.

The nearby newly completed sh. Khalifa Bridge provides an easy exit from Al Mina area to Saadiyat Island, Yas Island, Abu Dhabi Int'l Airport and Dubai.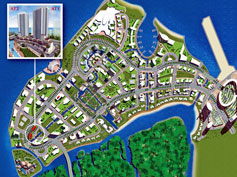 Shams Abu Dhabi, the Sorouh Real Estate development portion in Reem Island, will be approximately five minutes drive from the Tourist club area via a newly built bridge. Close to the city yet offering a lush green island setting where buildings are suitably spaced to provide a relaxed environment, this self-contained community will consist of residential, commercial, retail and recreational space and cater for all possible contemporary needs.